Brookfield, Wisconsin

Massage Therapy
At MEND Studios, located in Brookfield, WI, we offer a range of massage therapy services and massage methods to help alleviate everyday aches and pains. Our team of licensed massage therapists, led by Nadin Bailey, specializes in 11 different massage therapy techniques including Swedish Massage, Deep Tissue Massage, Prenatal Massage, Lymphatic Drainage Massage, Trigger Point Therapy, and more. With a focus on somatic awareness, our therapists aim to find and treat the root cause of your pain for long-lasting relief. Experience more than just temporary tranquility with our expert massage therapy services.
11 Massage Therapy Methods and Services
Discover the best massage therapy method for your body with MEND Studios. Our licensed massage therapists are trained in 11 different massage therapy methods and techniques to help you recover from injury or relieve everyday aches and pains. At MEND Studios, we believe that recovery is not a one-size-fits-all solution, which is why we take the time to listen and observe visual cues to uncover the root of your pain. Get customized care and expert advice with our team of licensed massage therapists.
| Massage Type | Massage Technique | Recommended for |
| --- | --- | --- |
| Deep Tissue Massage Therapy | Use deep pressure to alleviate tension from muscles and tissues | Strains, sports injuries |
| Trigger Point Massage Therapy | Apply pressure to painful, sensitive areas to relieve pain | Sports injuries, migraines, sciatica, osteoarthritis, carpal tunnel syndrome, tinnitus |
| Myofascial Release Massage Therapy | Gently massage the fasciae of muscle and locate stiff or tight areas | Difficulty sleeping, fibromyalgia, muscle injury |
| Cupping Massage Therapy | Warm and place glass cups on the skin to stimulate skin and muscles | Anemia, hemophilia, arthritis, fibromyalgia, inflammation, energy blockage |
| Stretch Massage Therapy | Therapist takes the client safely & gradually into a deep stretch to lengthen muscles | Flexibility, range of motion, posture, balance, pain relief, decreasing muscle fatigue, workout recovery |
| Swedish Massage Therapy | Use long strokes with light to firm pressure to increase blood & oxygen circulation | Stress, anxiety, sports injuries |
| Relaxation Massage Therapy | Apply your chosen pressure of strokes and kneading | Stress, anxiety, depression |
| Craniosacral Massage Therapy | Gently palpate joints in the skull, pelvis, and spine to alleviate symptoms | Headaches, neck pain, cancer treatment |
| Reiki Massage Therapy | Place hands lightly on or just off the body for energy healing | Pain, anxiety, fatigue, sports injuries, surgery recovery |
| Lymphatic Drainage Massage Therapy | Constant soft pressure increased slowly that encourages natural lymphatic drainage | Inflammation, or swelling from medical treatments or illnesses blocking your lymphatic system |
| Prenatal Massage Therapy | Massage therapist may use a variety of techniques such as Swedish massage, myofascial release, or acupressure to address specific areas of tension and promote relaxation. | Pregnant women who want to alleviate common discomforts associated with pregnancy |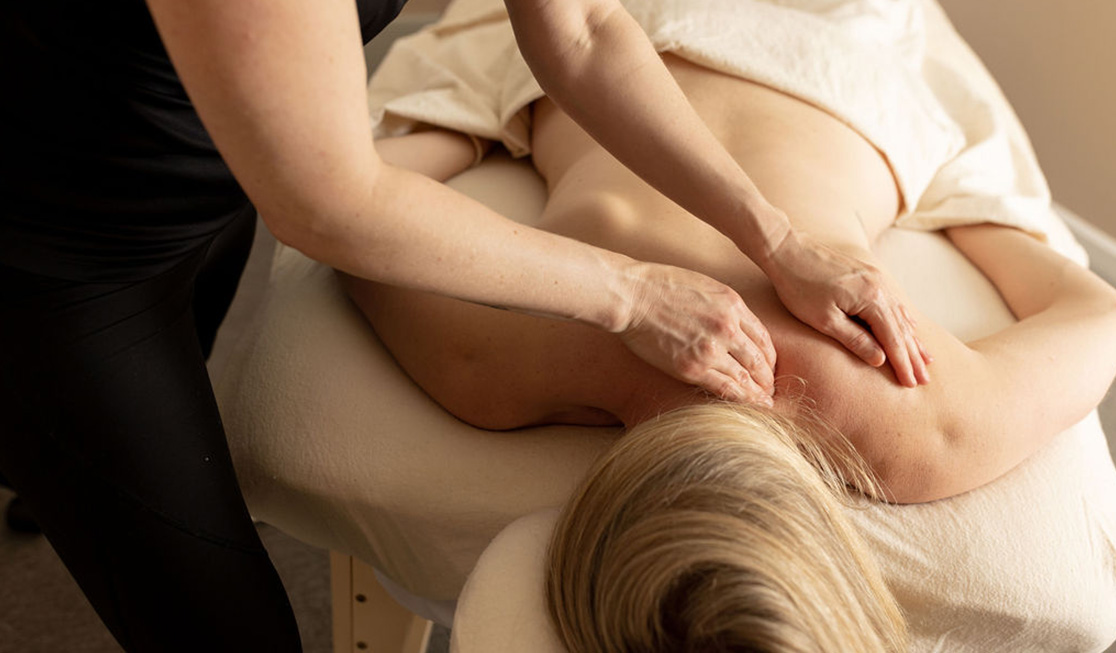 What is massage therapy
used for?
Massage therapy is utilized for a variety of reasons, including:
Reducing stress and promoting relaxation
Relieving muscle tension and pain
Improving circulation
Increasing flexibility and range of motion
Improving overall well-being
Treating specific conditions such as headaches, anxiety, depression, and sports injuries
Acting as a complementary or alternative therapy in combination with other medical treatments
Note: The specific benefits of massage therapy can vary depending on the type of massage and the individual's health condition.

Contact MEND Studios today to schedule your appointment with massage therapy relaxation.