Relaxation Massage
Therapy Services in Brookfield, WI
MEND Studios offers a variety of relaxation techniques to reduce stress and promote mental and physical wellness, leaving you feeling refreshed and rejuvenated. Our licensed massage therapists are committed to providing personalized care by utilizing different massage therapy services to meet your unique needs. Don't wait to experience the benefits of relaxation massage therapy. Book an appointment today and discover the relief and relaxation that MEND Studios can offer.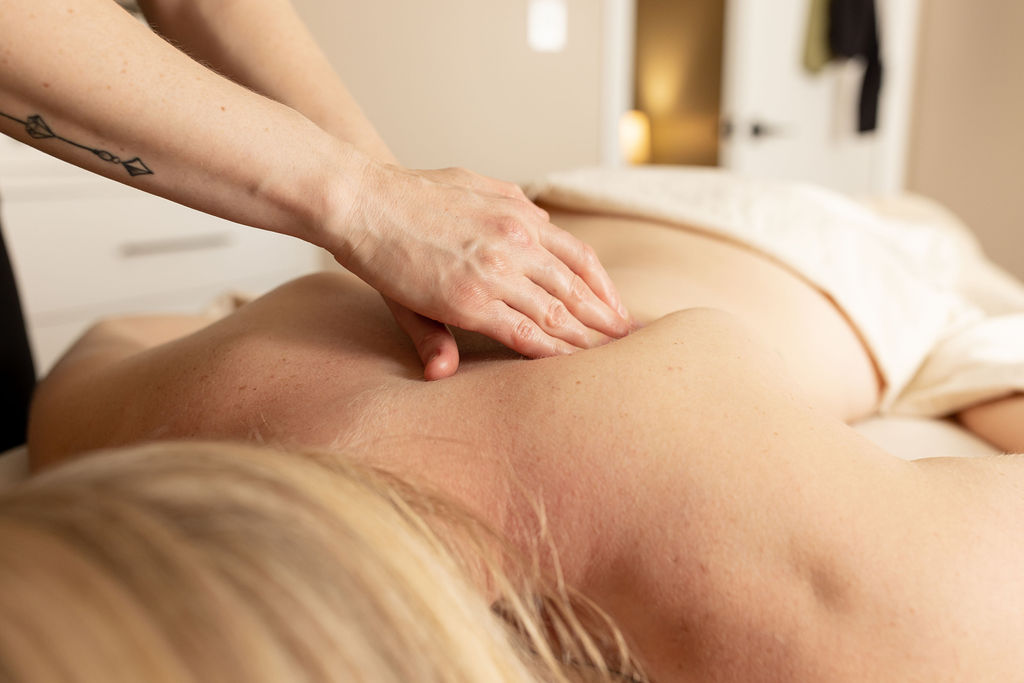 What is a Relaxation Massage?
Relaxation massage generally involves the light-to-medium application of pressure and long, flowing strokes on soft tissue to reach a deep state of relaxation. Sometimes, aroma therapy and hot stones are used to amplify the results. You'll leave MEND Studio rejuvenated with a sense of soothing comfort and relaxation.
Conditions Treated by Relaxation Massage Therapy
Relaxation massages are a wonderful way to soothe the mind, body, and soul, and can provide a host of benefits for overall health and well-being. At MEND Studios, our licensed and experienced massage therapists specialize in relaxation massage and use a variety of techniques to help you unwind and destress. Whether you are dealing with high levels of stress, or tension, or simply need some time to relax and rejuvenate, our therapists can help you achieve a greater sense of balance and harmony, leaving you feeling refreshed and renewed.
Relaxation therapy has been used to treat several conditions, including:
Reduced stress and anxiety
Improved sleep
Relieving muscle aches and tension
Boosting the immune system
Improved circulation
Promoting overall well-being
MEND Studio's licensed and certified massage therapists will work with you to determine the best therapy for your specific needs.
Benefits of choosing MEND Studio for Relaxation Massage Therapy
MEND Studios is committed to providing high-quality relaxation massage therapy services to clients in Southeastern Wisconsin. Our licensed massage therapists are dedicated to helping our clients achieve their wellness goals, with a focus on relaxation and stress relief. We offer a variety of techniques tailored to your individual needs, with each session providing a range of benefits that can help improve your overall physical and mental well-being.
With a relaxation massage, you'll be feeling soothed and relaxed in no time. Our massage therapists are the best around and we offer a variety of other massage therapy services, including:
Deep tissue
Trigger point
Myofascial release
Cupping
Stretch
Swedish
Reiki
Craniosacral
Lymphatic drainage
Prenatal
Our team of licensed massage therapists, led by Nadin Bailey, takes a deeper look into your physical pain. At MEND Studios, we believe that recovery is not a one-size-fits-all solution. Our team of Licensed Massage Therapists (LMT) and Physical Therapists (PT) only use the best tools and products. We take the time to listen and observe visual cues for the best individual outcome.
Relaxation Therapy Appointments Are Available
At MEND Studios, our team of licensed therapeutic massage therapists, under the direction of Nadin Bailey, conducts a thorough examination of the underlying cause of your physical pain. We understand that each person's path to recovery is unique and therefore, our team of licensed massage therapists (LMT) and physical therapists (PT) utilizes the most effective tools and techniques. Our relaxation massage therapists pay close attention to your individual needs and use both verbal and visual cues to create the optimal treatment plan for you.
Ready to schedule your relaxation massage therapy? Reduce pain and promote relaxation by booking an appointment with one of our experienced massage therapists today. We offer 11 types of massage therapy methods and are excited to assist you on your path to balance and relaxation. Book your spot today.