Craniosacral Massage
Therapy Services in Brookfield, WI
MEND Studios offers gentle and effective techniques to improve the function and balance of the craniosacral system. Improve your physical and mental well-being with our craniosacral massage therapy services. Our licensed massage therapists are committed to providing personalized care to meet your unique needs. Don't wait to experience the benefits of craniosacral massage therapy. Book an appointment today and discover the relief and relaxation that MEND Studios can offer.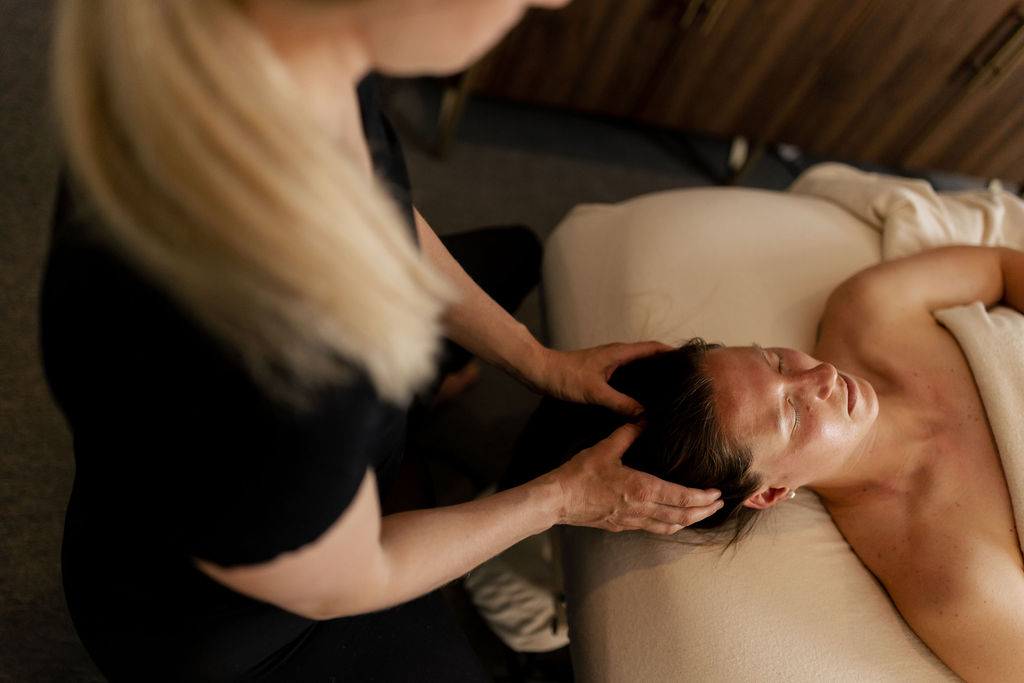 What Is Craniosacral Therapy?
Craniosacral therapy is a gentle manual therapy that addresses imbalances in the craniosacral system. During a craniosacral therapy session, the therapist uses gentle, non-invasive manual techniques to release tensions and imbalances in the craniosacral system. This can be done by applying light pressure to specific areas of the head, neck, and back to encourage the release of restrictions and improve the flow of cerebrospinal fluid.
Conditions Treated by Craniosacral Therapy
MEND Studios is proud to offer craniosacral therapy services to clients in Southeastern Wisconsin. Our skilled practitioners use gentle touch and manipulation to release tension and promote relaxation in the craniosacral system, a network of membranes and fluids surrounding the brain and spinal cord.

We offer our services to clients suffering from the following conditions:
Migraines and headaches
Chronic neck and back pain
Temporomandibular joint (TMJ) disorders
Stress and tension-related disorders
Central nervous system disorders
Learning disabilities
Chronic fatigue
Fibromyalgia
Scoliosis
Infantile disorders such as colic and feeding problems
Craniosacral therapy is based on the idea that cerebrospinal fluid is rhythmic in the cranial sacral system, which can be influenced by manual manipulation of the skull, spine, and pelvis. Practitioners of craniosacral therapy believe that by using gentle touches, they can release restrictions in the craniosacral system and improve the flow of cerebrospinal fluid, thereby reducing pain and discomfort. MEND Studios have decades of experience performing this therapy and are excited to bring you the individual treatment you require.
Benefits of Choosing MEND Studios for Craniosacral Therapy
Craniosacral therapy uses gentle touch and manipulation to release tension in the craniosacral system, promoting relaxation and healing in the body. Our skilled practitioners at MEND Studios are trained to use this technique to alleviate conditions such as headaches, TMJ, and fibromyalgia. By improving posture and reducing muscle imbalances, craniosacral therapy can enhance athletic performance and reduce the risk of injury.
Craniosacral therapy is believed to have a number of potential benefits, including:
Reducing pain and tension
Stress relief
Feel more energetic
Improving range of motion
Enhancing the immune system
Promoting overall relaxation and well-being
At MEND Studios, our team of licensed massage therapists, under the guidance of Nadin Bailey, conduct a comprehensive assessment of your physical pain. We understand that every individual is unique and requires a customized approach to recovery. Our licensed massage and physical therapists utilize the most-proven tools and techniques, while also observing clients' pain cues, ensuring the best individual outcomes.
Craniosacral Therapy Appointments Are Available
At MEND Studios, our team of licensed therapeutic massage therapists, under the direction of Nadin Bailey, conducts a thorough examination of the underlying cause of your physical pain. We understand that each person's path to recovery is unique and therefore, our team of licensed massage therapists (LMT) and physical therapists (PT) utilizes the most effective tools and techniques. Our craniosacral massage therapists pay close attention to your individual needs and use both verbal and visual cues to create the optimal treatment plan for you.
Ready to schedule your craniosacral therapy? Reduce pain and promote relaxation by booking an appointment with one of our experienced massage therapists today. We offer 11 types of massage therapy methods and are excited to assist you on your path to balance and relaxation. Book your spot today.