Deep Tissue Massage
Therapy Services in Brookfield, WI
MEND Studios offers a specialized massage therapy that uses firm pressure and slow strokes to target deep layers of muscle and fascia, promoting relaxation and alleviating pain and tension. We are ready to help you improve your physical and mental well-being with our deep-tissue massage therapy services. Our licensed massage therapists are committed to providing personalized care to meet your unique needs. Don't wait to experience the benefits of deep tissue massage therapy. Book an appointment today and discover the relief and relaxation that MEND Studios can offer.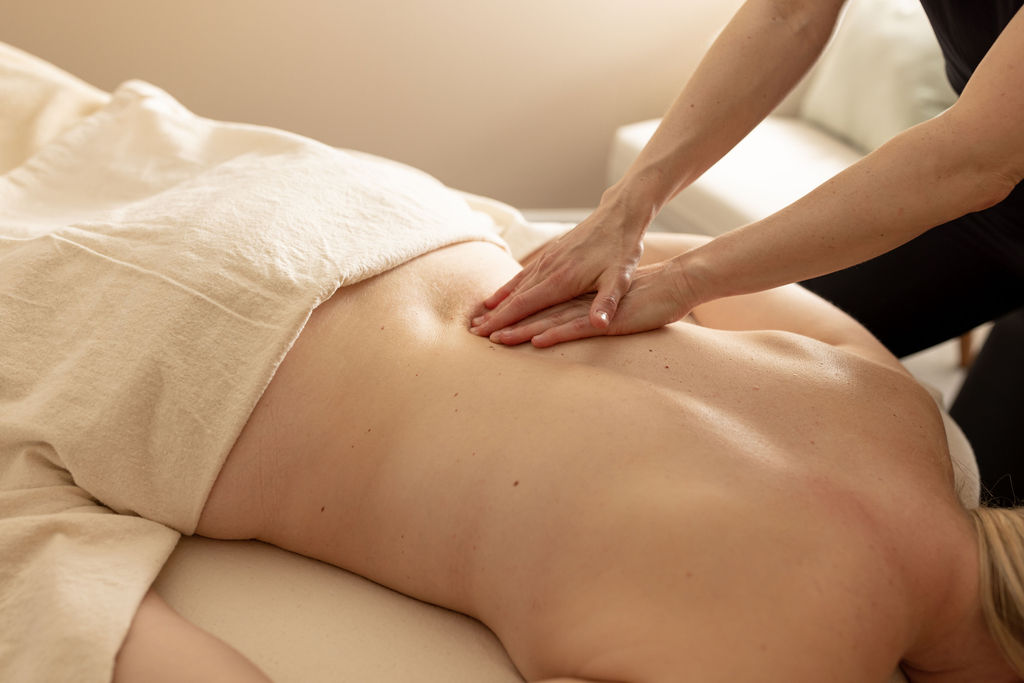 What is a Deep Tissue Massage?
Deep tissue massage is a type of therapeutic massage that focuses on the deeper layers of muscle and connective tissue. Using firm pressure and slow strokes, deep tissue massage aims to release chronic tension, knots, and adhesions, promoting relaxation and physical healing. This technique may cause some discomfort during the session, but clients generally experience significant relief from pain and tension after the treatment. The benefits of deep tissue massage include improved posture, increased mobility, pain relief, and enhanced athletic performance. Deep tissue massage is a popular modality among athletes and individuals seeking relief from chronic pain and tension.
Conditions Treated by Deep Tissue Massage
MEND Studios is a leading provider of deep-tissue massage therapy services in Southeastern Wisconsin. Our licensed massage therapists are trained to apply firm pressure and slow strokes to promote relaxation and healing, releasing chronic tension, knots, and adhesions. We offer our services to clients suffering from the following conditions:
Chronic back, neck, and shoulder pain
Muscle tension and spasms
Sports injuries
Repetitive strain injuries (such as carpal tunnel syndrome)
Sciatica
Tennis elbow
Plantar fasciitis
Postural imbalances and misalignment
Scar tissue and adhesion formation
Frozen shoulder
Headaches and migraines
Stress and anxiety
Fibromyalgia
Deep tissue massages work by breaking down scar tissue that's often caused by sports injuries or common wear and tear. Once broken down, the tissue will naturally repair itself. At MEND Studios, we've treated all types of aches and pains. Together, we'll put together an individualized treatment plan to target problematic areas so you can achieve the most from your massage.
Benefits of Choosing MEND Studios for Deep Tissue Massage Therapy
Deep tissue therapy is believed to have a number of potential benefits, including:
Reduced muscle tension and pain
Improved flexibility and range of motion
Increased circulation
Breakdown of scar tissue
Improved posture
Reduced stress and anxiety
Improved athletic performance
Alleviation of chronic pain conditions such as lower back pain, arthritis, and fibromyalgia
Boosted immune system function
Increased mental clarity and focus
Our team of licensed massage therapists, led by Nadin Bailey, takes a deeper look into your physical pain. At MEND Studios, we believe that recovery is not a one-size-fits-all solution. Our team of Licensed Massage Therapists (LMT) and Physical Therapists (PT) only use the best tools and products. We take the time to listen and observe visual cues for the best individual outcome.
Deep Tissue Massage Therapy Appointments Are Available
At MEND Studios, our team of licensed therapeutic massage therapists, under the direction of Nadin Bailey, conducts a thorough examination of the underlying cause of your physical pain. We understand that each person's path to recovery is unique and therefore, our team of licensed massage therapists (LMT) and physical therapists (PT) utilizes the most effective tools and techniques. Our deep-tissue massage therapists pay close attention to your individual needs and use both verbal and visual cues to create the optimal treatment plan for you.
Ready to schedule your deep tissue therapy? Reduce pain and promote relaxation by booking an appointment with one of our experienced massage therapists today. We offer 11 types of massage therapy methods and are excited to assist you on your path to balance and relaxation. Book your spot today.